Fair Lawn All Sports Certification Information Page
NEXT RUTGERS CERTIFICATION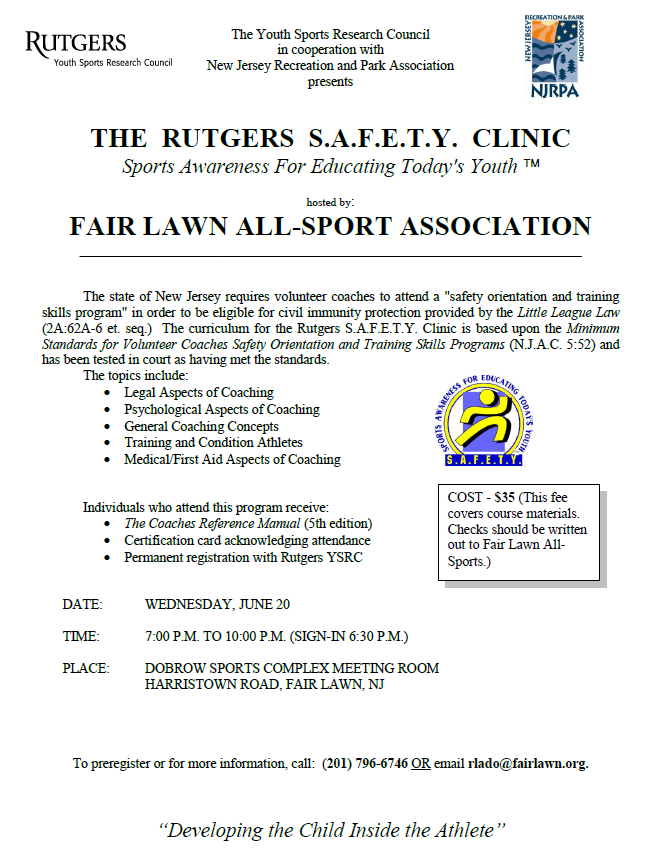 Coaches needing to take the Rutger Certification course please see locations below.

Volunteer Coaches S.A.F.E.T.Y. Clinic Schedule
If you are a volunteer coach interested in attending one of these programs, please contact the host agency administrator to register. They will provide you with the exact time, location,
directions, and registration fee.

NOTE: This schedule changes frequently as clinics are added or removed
(when seating capacity is reached). Therefore, it is important that you refresh

your browser often for the most current schedule of clinics.

Visit this link for alternate venues for Rutger Certification
Coaches should email Rob Lado at [email protected] to RSVP . Fee for the course is $35.00 and includes all materials.
To preregister or for more information, call:


201-796-6746 OR email

[email protected]