UPCOMING EVENTS

---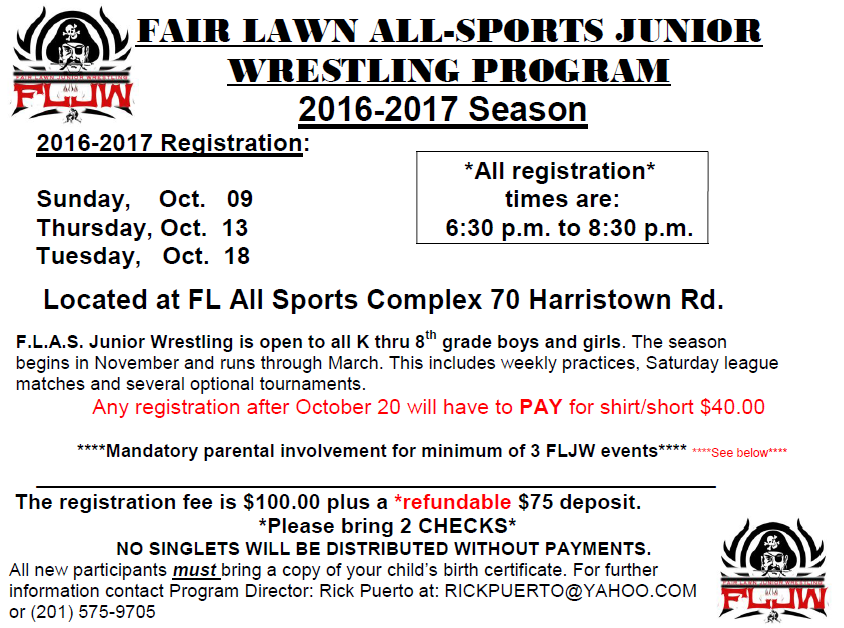 Download Registration and Code of conduct form here
---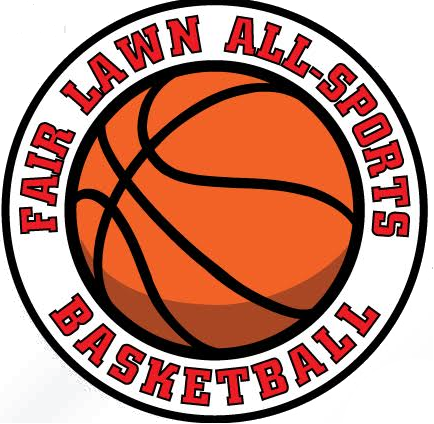 Registration for the upcoming (2016/17) FLAS Boys and Girls Basketball season are still being accepted at the Rec Department. 1st & 2nd grade fee is $75 and 3rd-8th fee is $85. Download form below.

Download PDF of registration and code of conduct form here

FAIR LAWN ALL-SPORTS BASKETBALL CLOTHING FUNDRAISER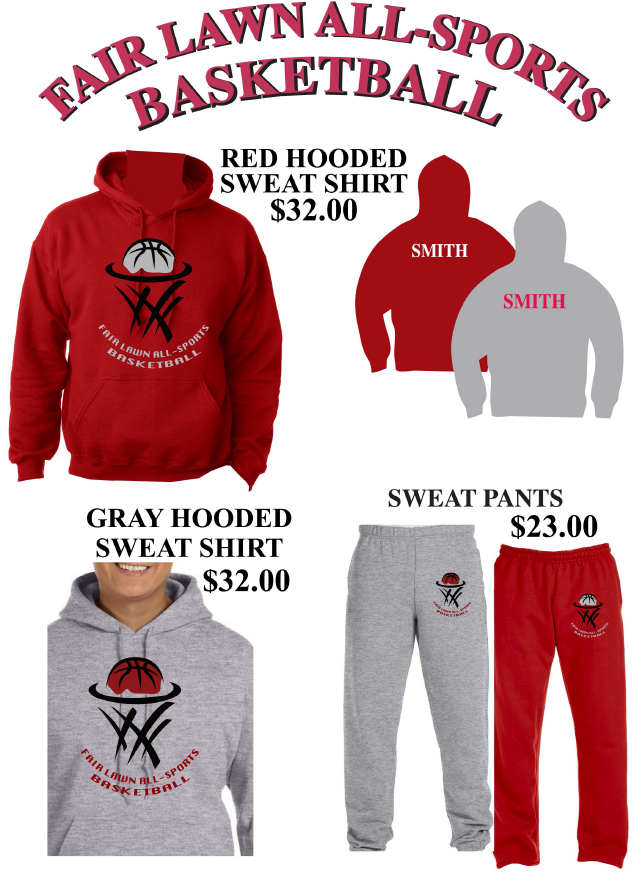 Download order form here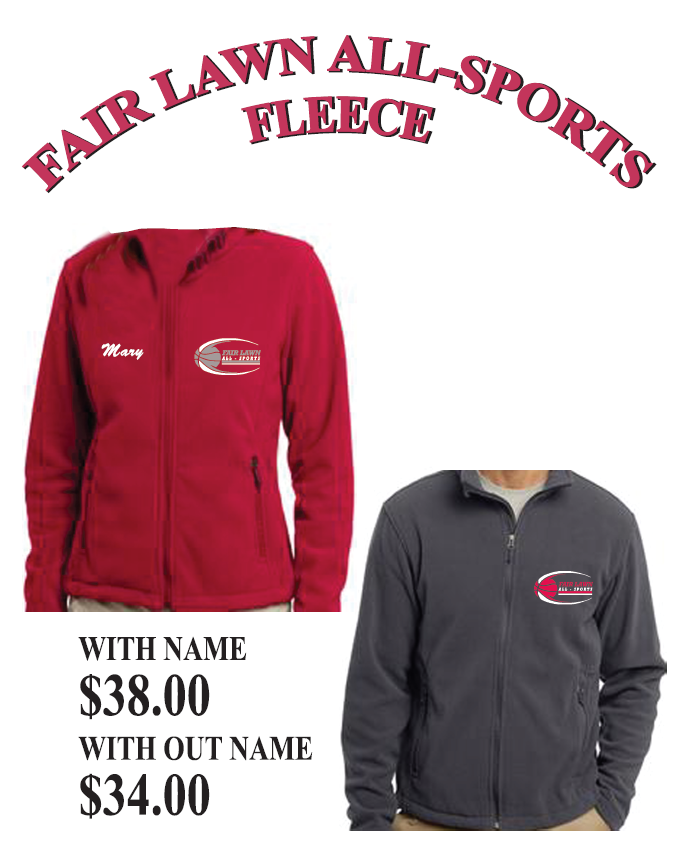 DOWNLOAD ORDER FORM HERE
---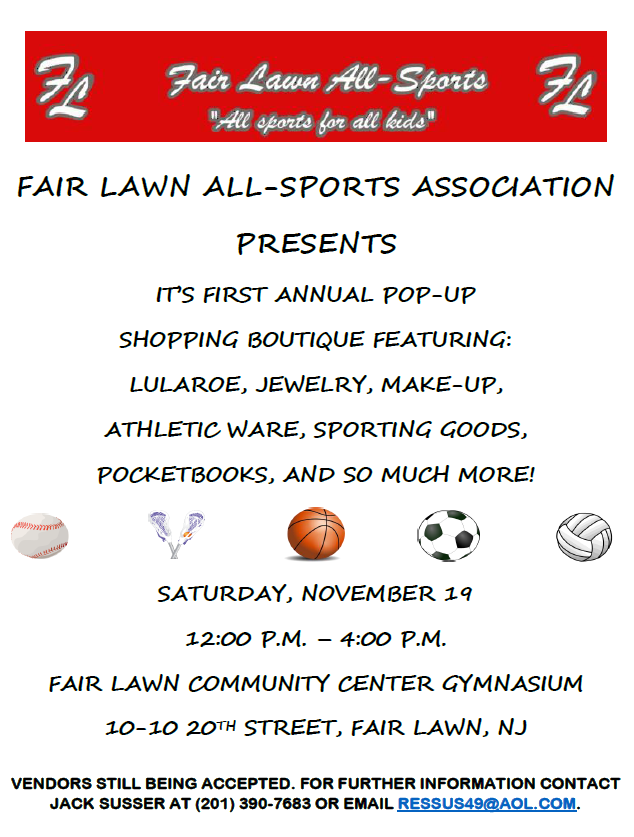 If you have any questions contact Jack Susser

[email protected]



---
Fair Lawn U14 Boys win the finals at the Parsippany Columbus Day Weekend tournament...Congratulations Boys!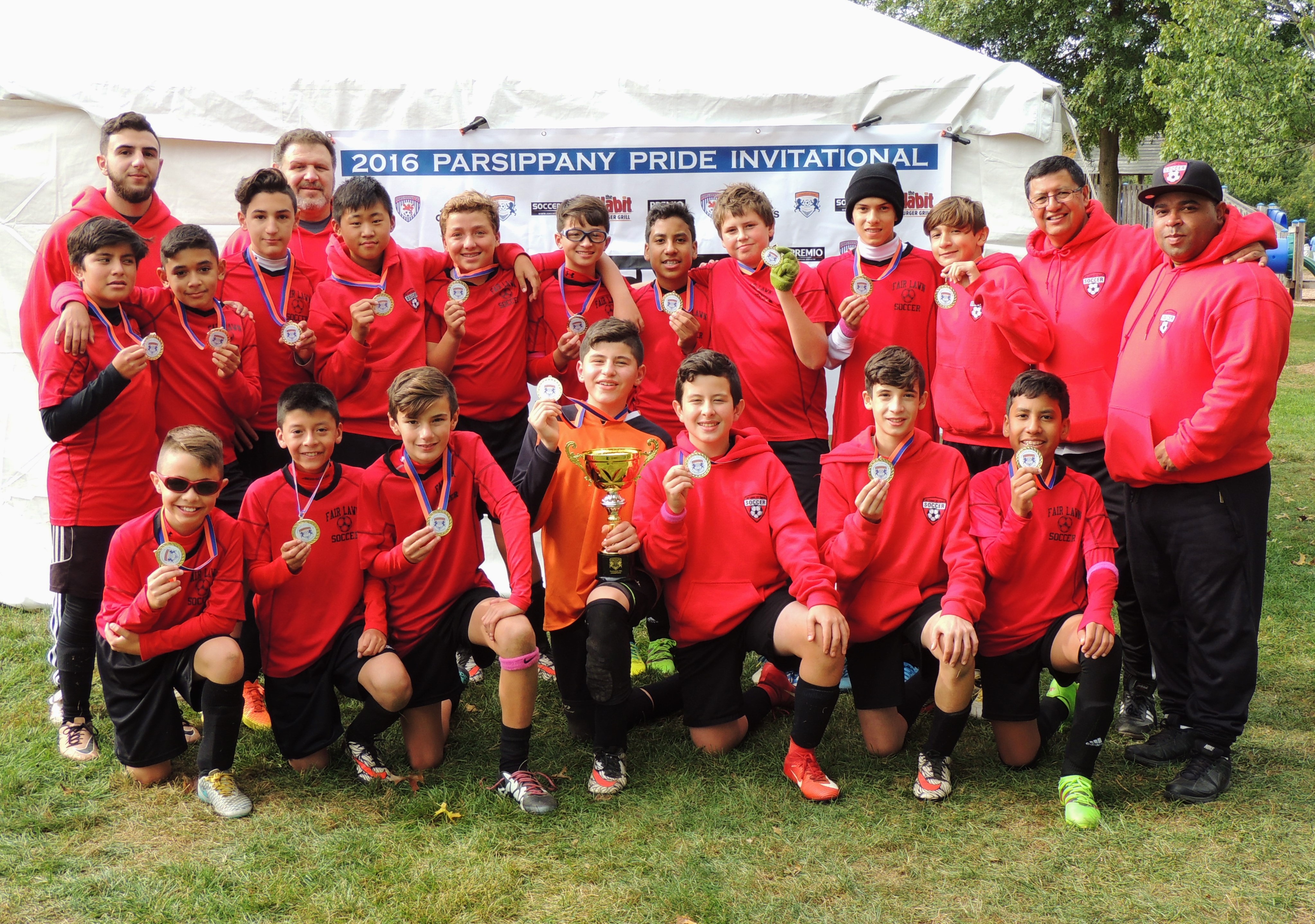 ---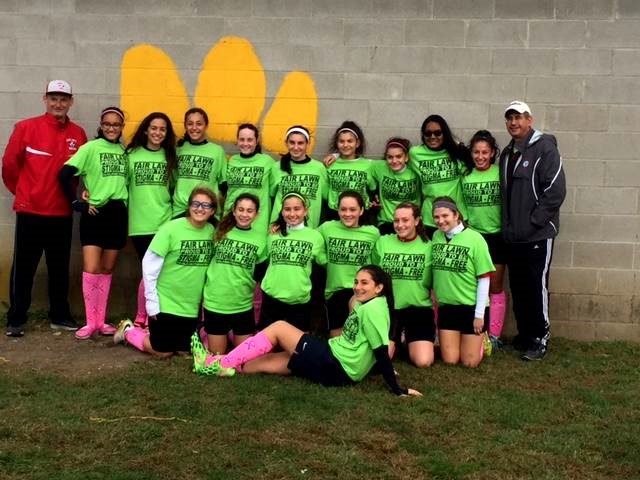 The Fair Lawn All-Sports 8th grade -- U15 girls soccer team coming off their Labor Day Tournament Championship took second place at the Pequannock Columbus Day Tournament. The team coached by Rob Manspeizer and Jeff Mazzola, gave up only 2 goals in 4 games and lost in the Championship game on a penalty kick shoot-out. The girls on the team supported the Fair Lawn Stigma Free Organization by wearing their "Stigma Free" shirts, as well as honoring Breast Cancer Awareness Month by wearing their bright pink socks. Congratulations to the team for their efforts in the tournament as well as for their support for other causes. The Fair Lawn Stigma Free Task Force is designed to raise awareness and breakdown negative stereotypes and stigma's of people suffering from forms of mental illness and/or depression. The Task force provides a number of resources for adults and teens in need of assistance. Many of the members of the U15 team also volunteer to help with the Stars Special Needs program run by All-Sports which provides an opportunity for children with Special Needs to participate in sports programs including soccer, basketball, baseball/softball and track.
---
Fair Lawn All-Sports would like to thank the HSS Youth Sports program for their generous donation. We look forward to partnering in the future to offer clinics on injury prevention and exercise.



---

Fair Lawn Junior Wrestling is partnering with Sports Clips in River Edge, NJ for discounted haircuts. A portion of the proceeds goes back to FLJW. All you need to do is print out the PDF (*Note - They will not accept screen shot) which can be downloaded below.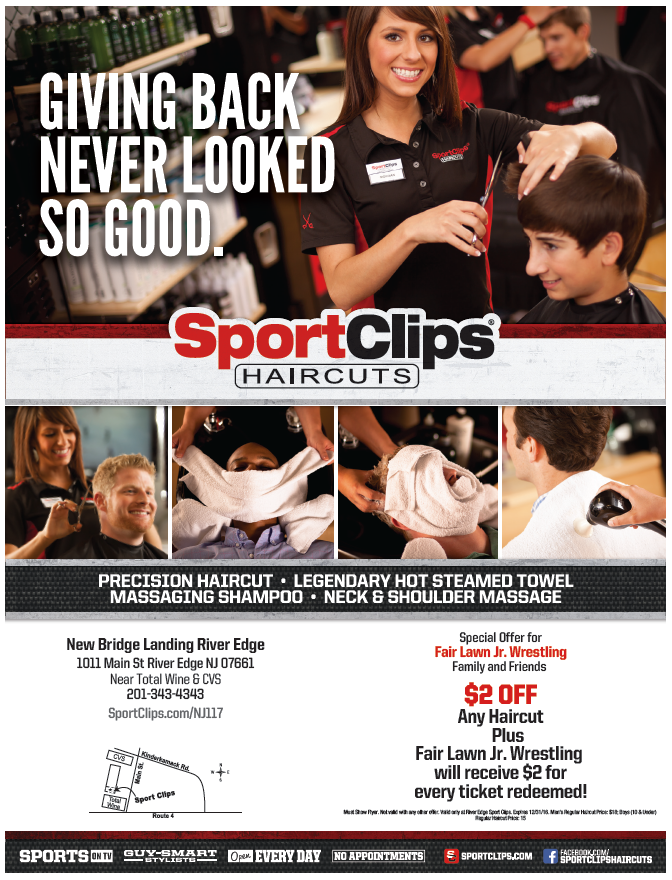 DOWNLOAD PDF HERE
---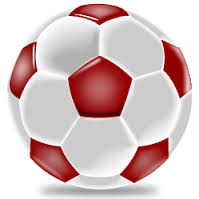 Soccer online clothing fundraiser store is now open!!

Visit
https://fairlawnrecsoccer2016.itemorder.com/sale?read_message=true


---

Soccer Bags can be ordered by downloading the form below.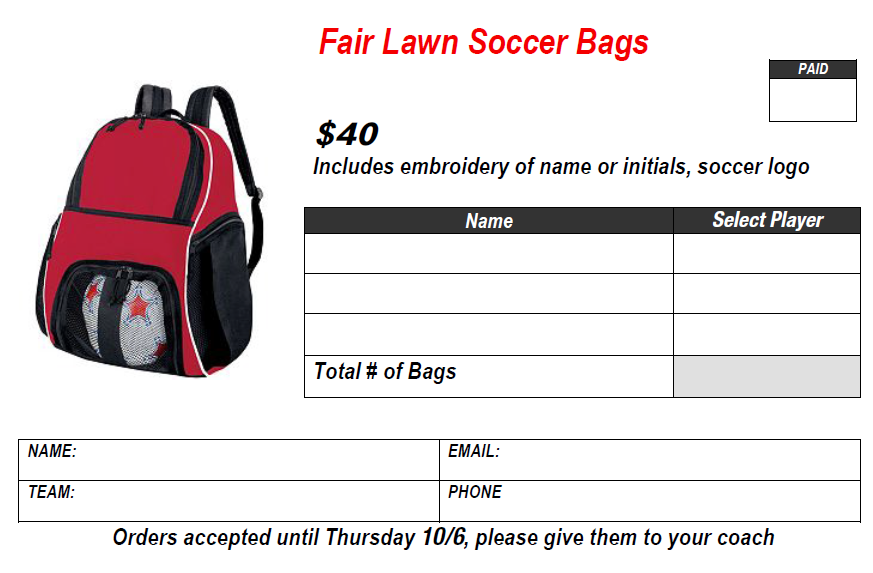 Soccer Bag Order Form (DOWNLOAD HERE).
Please hand order form back to your child's coach by October 6,
with a check made out to FLAS
---
Soccer schedule for boys and girls

K-2 from September 24, 2016 through November 12th
1st and 2nd Grade Boys - Saturday mornings 9:00-10:30 am -

At Warren Point Annex (Behind the CVS on Broadway)
1st and 2nd Grade Girls - Saturday mornings 11:00-12:30 am --

At Warren Point Annex (Behind the CVS on Broadway)
Kindergarten boys and girls clinic format -- Saturday afternoons 1:30-3:00 pm

- At the Dobrow Complex
*Picture day will be October 8th download order form and schedule below:
---
In conjunction with Fair Lawn ADA Committee
All-Sports "STARS" Soccer Program
September 17th - November 12th 2016
For boys and girls from the age of 5 through 15 with special needs
Fee-$35.00, includes T-Shirt, Soccer Ball, Shin Guards, End of year Pizza Party and Trophy
Bring or mail Registration Form to Sign up
Stars
Fair Lawn Community Center
10-10 20th Street Fair Lawn, NJ 07410
Sign Up Dates Will also be 9/13/15 from 7:30-9:00 pm at the Dobrow Sports Complex on Harristown Road
Please Make Check Payable to: Fair Lawn All-Sports
Download registration form here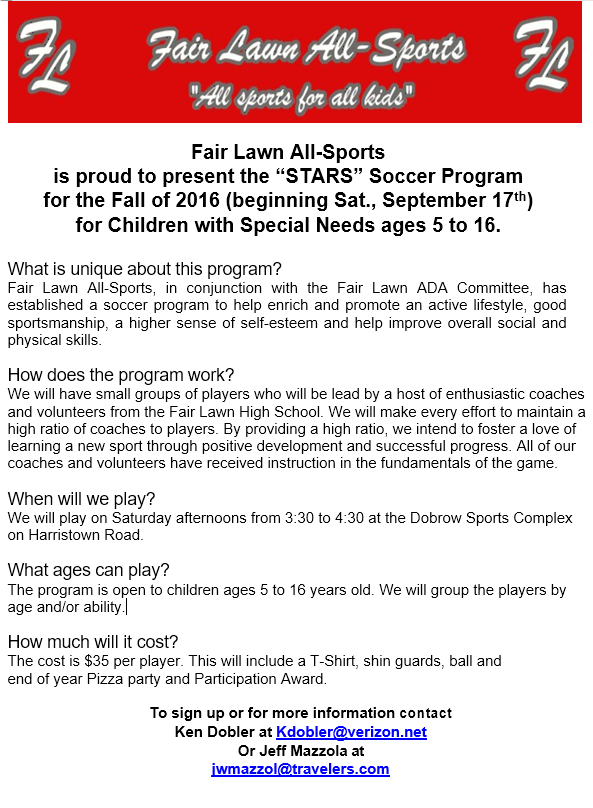 ---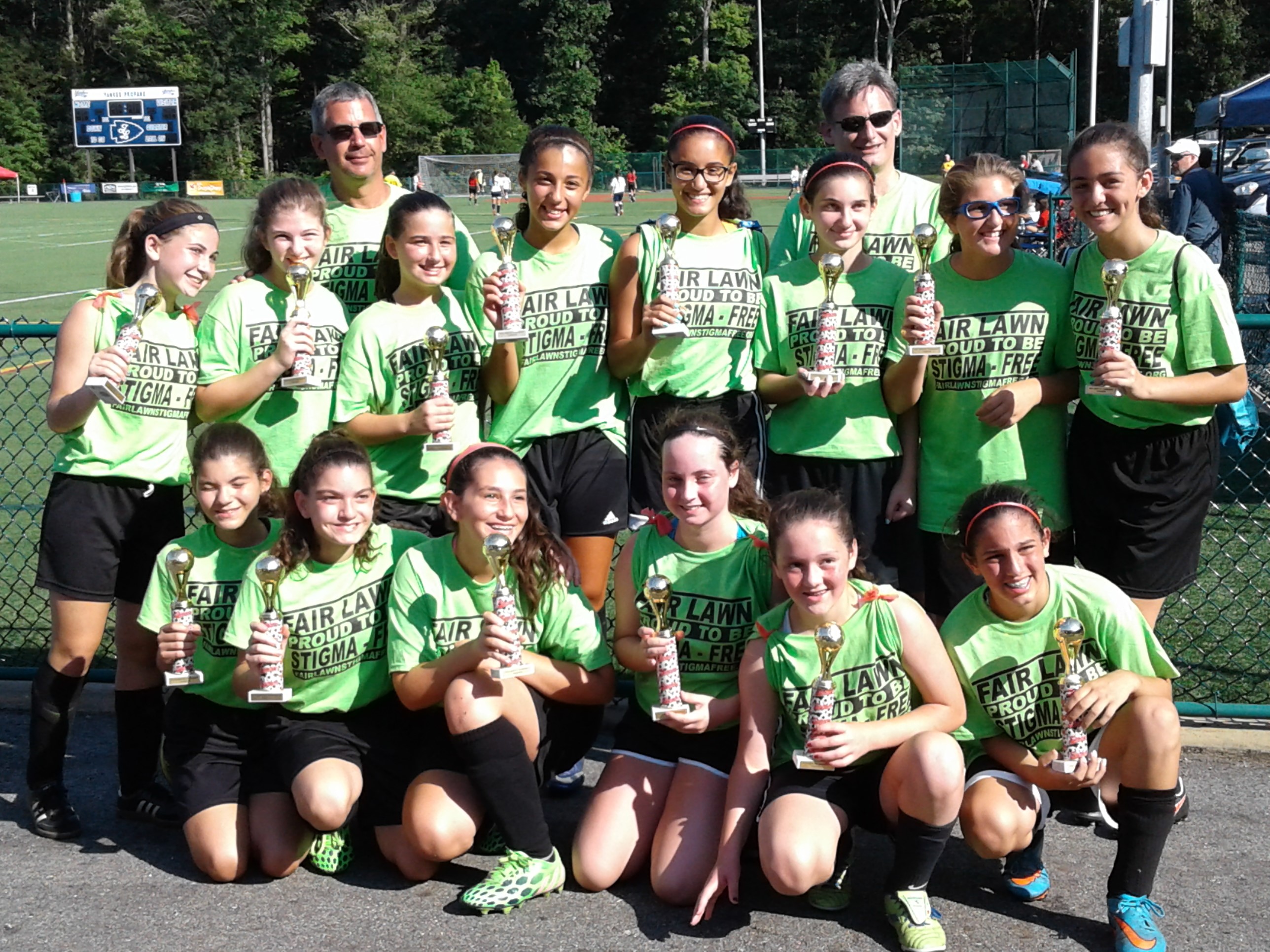 U15 Girls, coached by Rob Manspeizer and Jeff Mazzola won the RYSA Labor Day Tournament going undefeated and giving up only one goal for the weekend. Team was sponsored by the Fair Lawn Stigma Free Organization.
---
SOFTBALL CHAMPS!!

The Fair Lawn 14U Travel Softball team ended its Bergen County Girls Summer Softball League regular season with a 12-1 record. They followed that up by going unbeaten in the playoffs. They defeated Ridgewood 6-1 to take home the
14U Championship Trophy.

Congratulations to the players and coaches
for a tremendous season.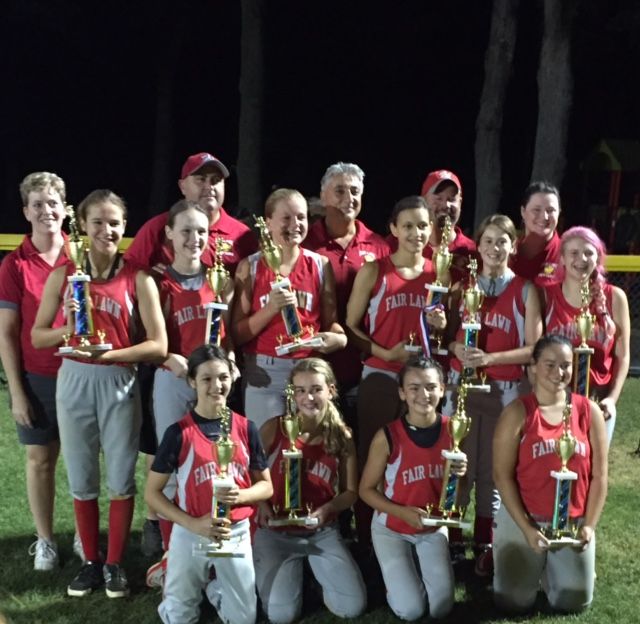 ---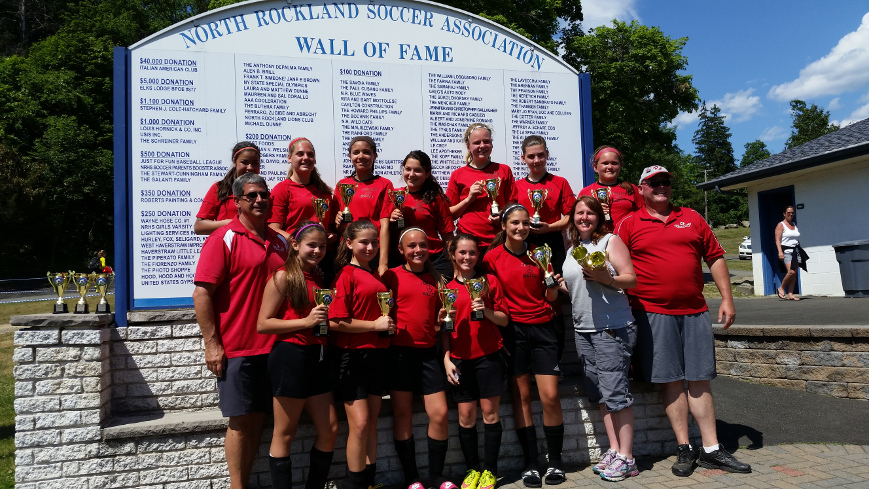 Congratulations to the FLAS U14 Select Girls on their second place finish at the North Rockland Father's Day Tournament. The team is coached by
Jeff Mazzola,

John Moran

and

Celia Rose

.


---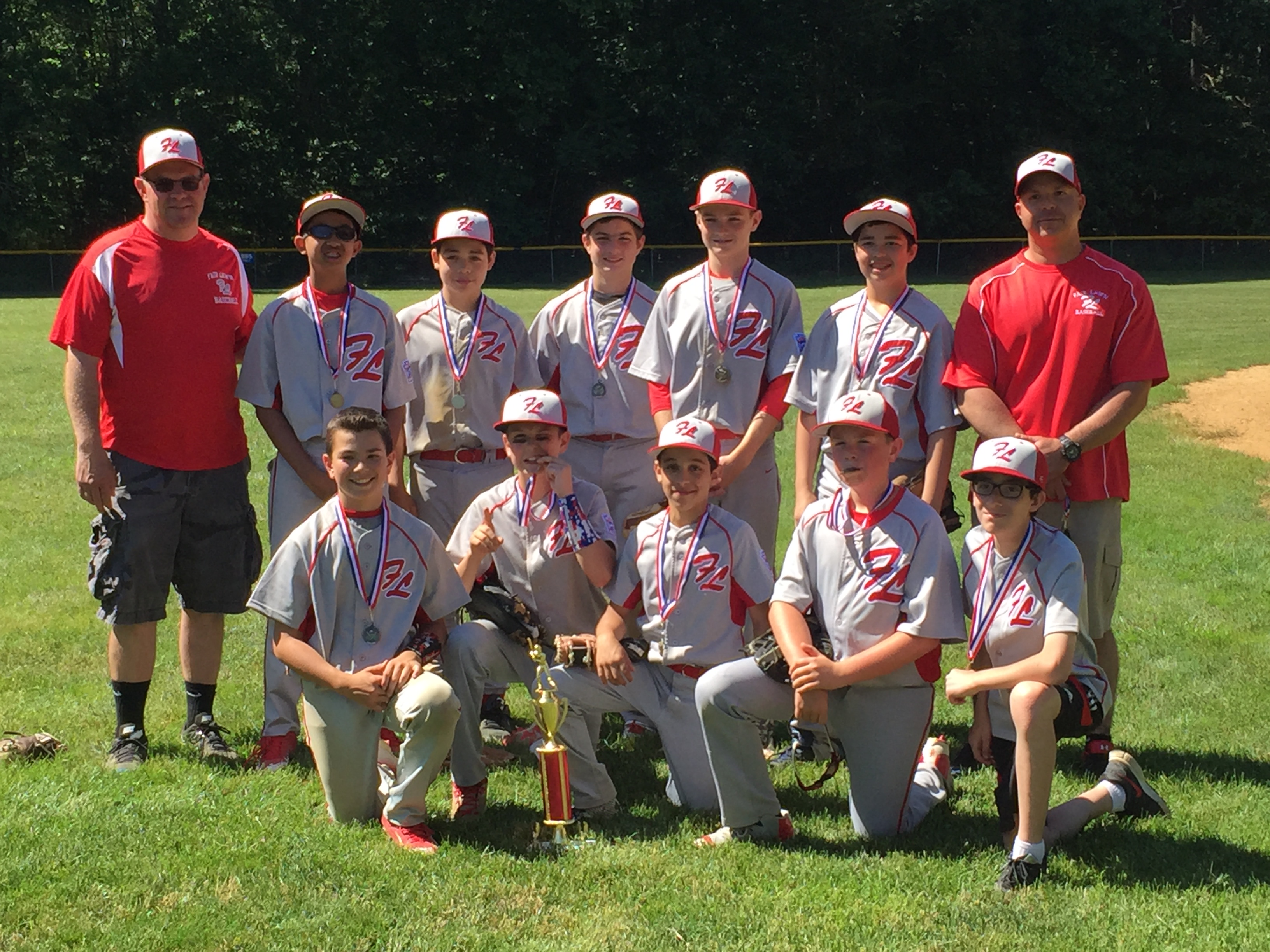 The Fair Lawn 13U travel baseball team finished the Spring season with a 8-1 record. The Cutters defeated Allendale 5-1 today to win the NJSBL Spring Season National Division Championship. With guidance from coaches Warren Cohen and Chris Berry and Manager Pete Federico these boys concluded a successful Spring season with today's victory. None of this could have been possible without the dedication and commitment of our Parents!!


---
Coaches needing to take the Rutger Certification course please see

locations below.

Volunteer Coaches S.A.F.E.T.Y. Clinic Schedule
If you are a volunteer coach interested in attending one of these programs, please contact the host agency administrator to register. They will provide you with the exact time, location, directions, and registration fee.

NOTE: This schedule changes frequently as clinics are added or removed (when seating capacity is reached). Therefore, it is important that you refresh your browser often for the most current schedule of clinics.

Visit this link for alternate venues for Rutger Certification
---
There have been several discussions on the topic of Concussions at the preseason Coaches Meetings and seasonal League Contact meetings.
Here are several Concussion Training links for Coaches:
www.cdc.gov/concussion/HeadsUp/Training/HeadsUpConcussion.html
www.ncaa.org/health-safety
www.sportsconcussion.com
www.bianj.org
www.nfhs.org
www.njsiaa.org