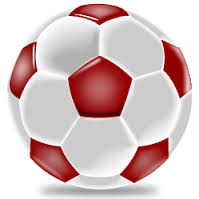 ---
NCSA Cup Winners 2017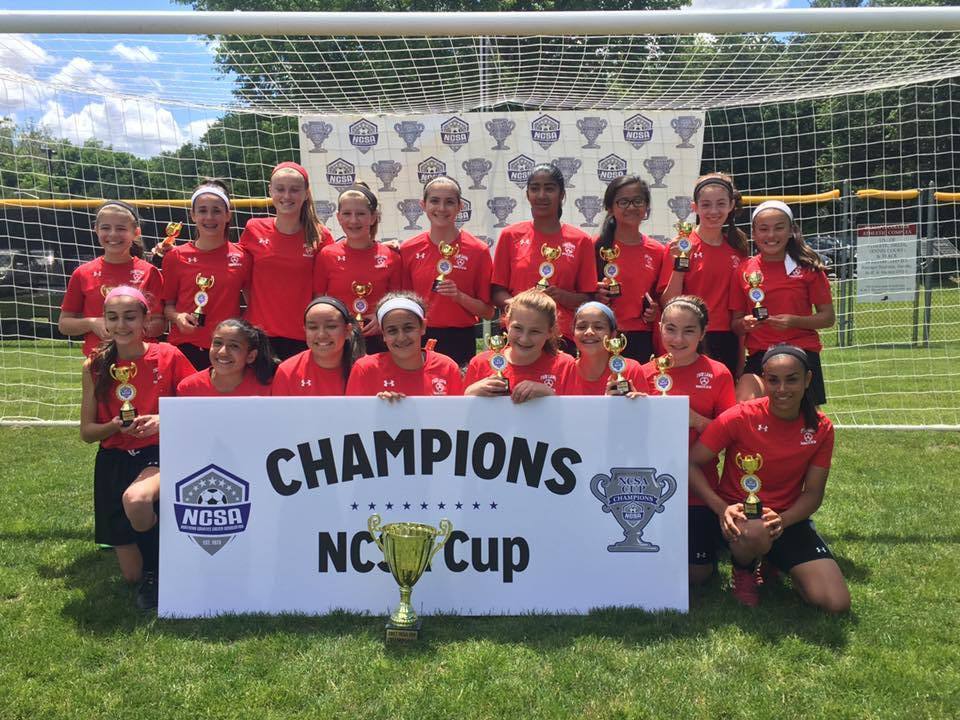 Fair Lawn U14 Girls, coached by Erlene Aranias, Kevin Donohoe and Marc Wilner won the U14 Girls Northern Counties Soccer Association Spring Cup, played at Ramapo College on 6/3/17 by beating 3 top flight teams over a series of several weeks. Congratulations on being the first Fair Lawn team to win this Cup!
---
Fair Lawn U14 Boys win the finals at the Parsippany Columbus Day Weekend tournament...Congratulations Boys!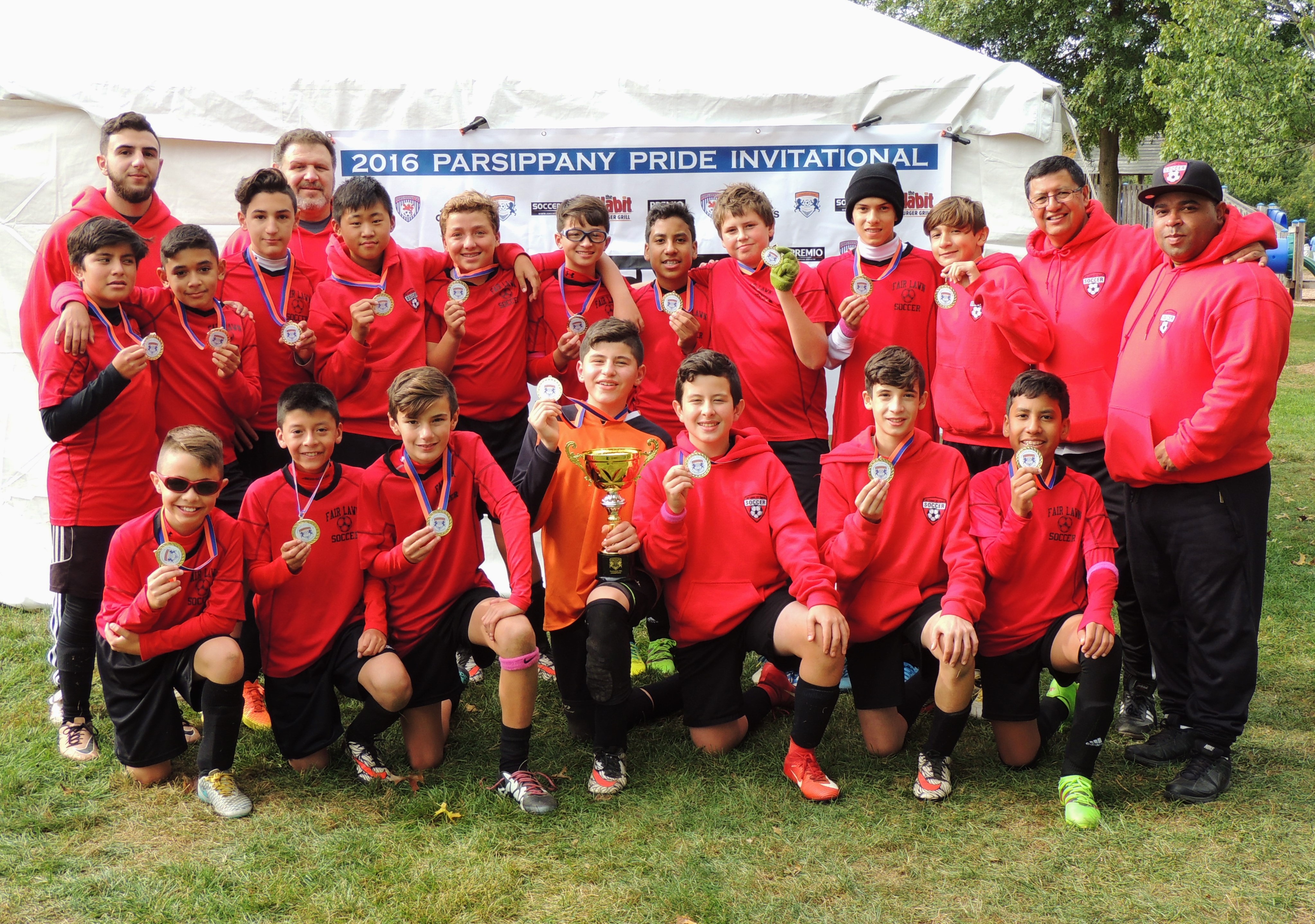 ---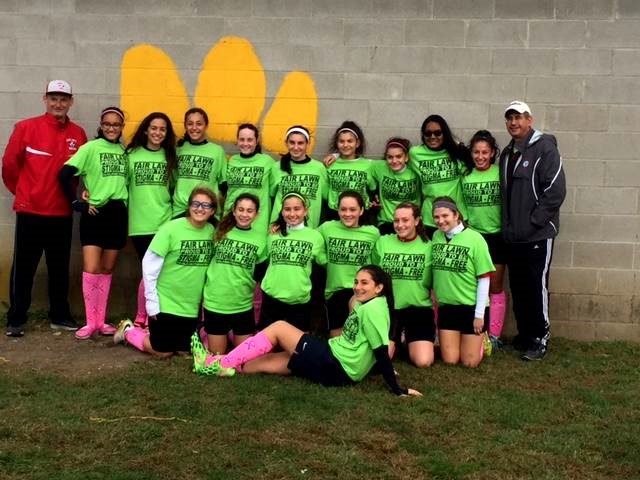 The Fair Lawn All-Sports 8th grade -- U15 girls soccer team coming off their Labor Day Tournament Championship took second place at the Pequannock Columbus Day Tournament. The team coached by Rob Manspeizer and Jeff Mazzola, gave up only 2 goals in 4 games and lost in the Championship game on a penalty kick shoot-out. The girls on the team supported the Fair Lawn Stigma Free Organization by wearing their "Stigma Free" shirts, as well as honoring Breast Cancer Awareness Month by wearing their bright pink socks. Congratulations to the team for their efforts in the tournament as well as for their support for other causes. The Fair Lawn Stigma Free Task Force is designed to raise awareness and breakdown negative stereotypes and stigma's of people suffering from forms of mental illness and/or depression. The Task force provides a number of resources for adults and teens in need of assistance. Many of the members of the U15 team also volunteer to help with the Stars Special Needs program run by All-Sports which provides an opportunity for children with Special Needs to participate in sports programs including soccer, basketball, baseball/softball and track.
---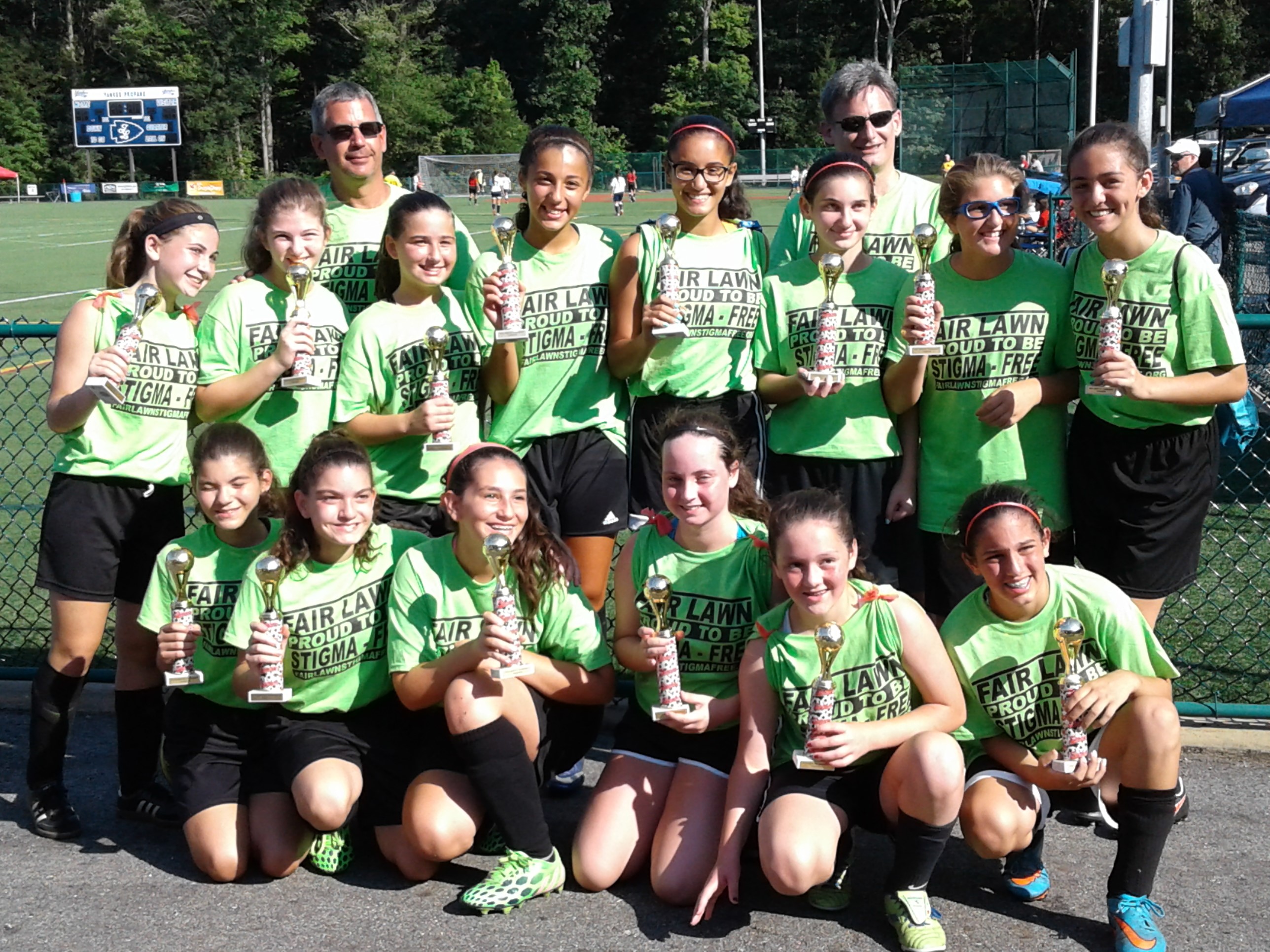 U15 Girls, coached by Rob Manspeizer and Jeff Mazzola won the RYSA Labor Day Tournament going undefeated and giving up only one goal for the weekend. Team was sponsored by the Fair Lawn Stigma Free Organization.
Fair Lawn All Sports Soccer Program

Kindergarten, 1st and 2nd grade Boys and Girls
All Kindergarten thru 2nd Grade Teams are "generally" rostered according to elementary school
Kindergarten boys and girls clinic format -- Typically Saturday afternoon 1:30-3:00 pm
This program is a minimum of 8 weeks long with an extra week if inclement weather does not affect the schedule. The first four weeks of the program uses Professional Trainers to assist our coaches in the program and the development and practice techniques to aid in the development of our kindergartners.
1st and 2nd Grade Boys - Typically Saturday Sessions morning 9:00-10:30 am
1st and 2nd Grade Girls - Typically Saturday Sessions morning 11:00-12:30 am
The boys and girls program is a minimum of 8 weeks long with an extra week if inclement weather does not affect the schedule. The first four weeks of the program uses Professional Trainers to assist our coaches in the continuing development and practice techniques of our players. The program is set up to teach new skills every week for one half of the weekly session. The second half of the session uses game situations to implement the new skills.
Enjoy the Opening day Soccer Kickoff that is annually held at the Complex. You will have the opportunity to purchase Fair Lawn Soccer clothing and other soccer items at that time.
3rd grade - 8th grade Boys and Girls Recreation Program
Teams participate in NWBSA (Northwest Bergen Soccer Association) with teams from towns in the general Northwest Bergen area. There is a 10 game season starting on the first weekend of September following Labor Day and runs into November. There are generally two practices a week, typically boys on Mon/Wed and girls on Tues/Thurs. The Girls play on Saturdays either 9:00 or 11:00 am. Boys play Sundays either 1:15 or 3:00pm
Players are placed in appropriate Divisions based upon date of birth or by grade. Players are drafted and teams are set in May. Player/Team requests WILL NOT be taken.

Any child registered after June 1 when all teams are submitted to NWBSA is not guaranteed to have a spot on a team.
__________________________________________________________________________________________
Select Boys and Girls 3rd - 8th grades
Select Teams will play in the Northern Counties Soccer Association League which is a high level competitive Club soccer league to focus on the development of player skills and provides players the option to play in a league striving for the highest level of soccer competition. These teams will be selected based upon the skill, desire, and dedication of the player. There will be at least two tryouts for each team in May and it is strongly encouraged that players attend all tryouts.
Games are generally on Saturdays for the boys teams and Sundays for the girls teams, which avoids conflicts with Recreation Soccer games. For 8-10 weeks, one of the practices each week will be lead by a professional soccer trainer.
Players who try out for these teams and are successful are still expected to play in FLAS Recreation Soccer. Our Recreation coaches are advised and understand that the Select practices have priority, especially the trainer-led sessions. FLAS encourages all Select players to attend at least one Recreation practice per week and they must play in the Recreation games. Any players that do not participate with their drafted Recreation team games will be held accountable.
Depending on the number and quality of players that try-out players will be placed on teams as follows for both Boys and Girls to be determined by Birth Year:

U-8 (2nd/3rd Grade), U-9 (3rd Grade), U-10 (4th Grade), U-11(5th Grade), U-12(6th Grade), U-13(7th Grade), and U-14/U15(8th Grade). The birth year of the player during 2016 will control the group in which they can play.

The Grade reference is the "general" grouping that takes place.
Soccer Email Contacts


FAIR LAWN ALL SPORTS FALL 2015 REC SOCCER ORGANIZATION

Soccer Director

Jeff Mazzola

Soccer Director

Ken Dobler

League

Days/Location

Coordinator

Coordinator E-mail/Cell Phone

Kindergarten -

Saturday Afternoons

to be determined

Boys & Girls Combined

Dobrow Complex

GIRLS SOCCER

League

Days/Location

Coordinator

Coordinator E-mail/Cell Phone

1st & 2nd Grade Girls

Saturday Mornings

Eric Rubin
Roger Quinlan

Warren Point Annex

3rd & 4th Grade Girls

Tues, Thurs & Sat

Ken Dobler

(Division 5)

5th & 6th Grade Girls

Tues, Thurs & Sat

Erlene Aranias

(Division 4)

7th & 8th Grade Girls

Tues, Thurs & Sat

Rob Manspeizer

(Division 3)




BOYS' SOCCER

League

Days/Location

Coordinator

Coordinator E-mail/Cell Phone

1st & 2nd Grade Boys

Saturday Mornings

to be determined

Warren Point Annex

3rd & 4th Grade Boys

Mon, Wed & Sun

Donna Taylor

(Division 5)

5th & 6th Grade Boys

Mon, Wed & Sun

Frank Piccininni

(Division 4)

7th & 8th Grade Boys

Mon, Wed & Sun

Fred Schuldt

(Division 3)